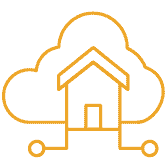 Cloud Approach: Containers
Our container solution
for accelerating your rollout
You would like to considerably accelerate the rollout of your applications? In this case, the container technology is the best solution for your business!
Due to the increasing complexity of applications, the demand for a faster development rises continuously. Here, container solutions are ideal approaches to faster repeat processes several times – in different environments! With this technology, you can packetize and isolate your complete environment as well as significantly reduce your resource requirements. In this way, the applications contained can be moved fully functionally to individual environments and immediately made available.
We have already implemented the basics of these new concepts and will support you in creating, scaling and managing your applications in containers. As a consequence, you can make your applications available fast and easily via the cloud. 
Here as well, we closely cooperate with our parent company FIS GmbH and make state-of-the-art technologies usable for your landscapes. 
Your advantages at a glance