Your IT Infrastructure in Our ISO 27001-Certified Edge Data Centers
A professional solution for processing large datasets
Due to the digital transformation and increasing adaptation of the Internet of Things, increasingly large amounts of data are being generated that need to be processed in real time. New advancing technol-ogies, such as 5G mobile networks or autonomous driving, will be increasingly used and change our everyday life. IT solutions are needed that are, among other things, modular, flexible and decentralized. Central data processing and short latency times play a key role in exploiting the potential of these new tech-nologies.
This is where our edge data centers in Northern Bavaria come into play, guaranteeing high reliability, low latencies with the highest computing power and maximum security by storing data in Germany and complying with all relevant German and European standards.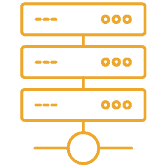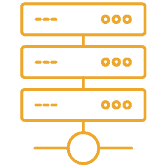 A safe place for your (cloud) infrastructure
FIS-ASP has three highly secure edge data centers, distributed over a 20 kilometer radius, featuring innovative infrastructure and redundant systems. Ideal for cloud services that are operated in compli-ance with the standards of the GDPR. In conjunction with hybrid (multi-)cloud technologies, not only is efficient data processing and storage ensured, but the flexibility of cloud solutions is also combined with the high security standards of our data centers. Provision your cloud resources and use our redundant edge data centers:

Fixed contact persons - individual service


Central location in Southern Germany
Your server hardware in our data centers
You would like to operate your IT yourself without cost-intensive investments for data centers, infra-structure and their management?
In this case, a classic FIS-ASP colocation solution will be the right choice. Whether providing a suita-ble IT infrastructure or space for your hardware, FIS-ASP's colocation solutions give you security and scalability for your IT systems. Of course, the central components are available for you to use.
 
Use our premises and benefit from our security concept:
 … advanced technologies
… redundant energy supply
… innovative cooling systems 
… modern alarm systems
… annular power connection
… RZ monitoring and many more
We will be happy to provide you with a suitable expert who will be happy to answer your questions about the operation of your IT systems in our edge data centers. Please contact us!
Do you need a flexible storage solution to round off your IT requirements?