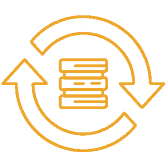 Business Continuity Management
Knowing your risks enables you to manage emergencies - 100% reliable Business Continuity Management with FIS-ASP
Only those who know the risks of their most important business processes can control an emergency. In order to prevent an incident from becoming an emergency, a well-established Business Continuity Management is required. The demands on ITC systems are becoming increasingly complex in terms of operational and data protection as well as data security and availability. 
Mastering these demands requires a sophisticated balance between technical and organizational measures and compliance with legal requirements. IT departments of medium-sized companies are often overstrained with achieving this balance.
As a full service IT service provider, FIS-ASP is well positioned in this respect:
As a service provider with more than 25 years of experience, we have established a Business Continuity Management (BCM) for our customers that exactly knows the critical business processes and optimizes them constantly so that you can fully rely on this BCM. This has been certified several times by certified auditors. We understand BCM as a culture that is fully integrated in our business processes. 
We are guided by the following IT emergency management standards:
• ISO 22301 International norm for BCM
• BSI 100-4 Emergency management
• BS 25999 Code of practice/ specification (previously PA56)
• ISO 27001 IT security standards