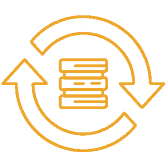 High Availability and
System Stability
Is the permanent availability of your services via the Internet important to you? Does your business model depend on the permanent accessibility of your online shop? Does your logistics department have to work day and night? 

We have a solution for you!
As a result of digitization, companies depend more and more on their processes and IT systems. It is all the more important that these are highly available. 

With its experience and expertise, FIS-ASP demonstrably convinces SAP hosting customers of the high availability of its systems: The maximum IT performance is guaranteed through a precise end-to-end performance analysis of your entire system as well as through the check of the installed applications and the relevant parameters.
The goal of these measures is nothing less than the "IT zero downtime", which means that all systems are available at any time and 24 hours a day!
Business processes, for instance, are not only made more available, but also more agile, scalable and flexible through the virtual mapping of systems. Mirrored data stores with metro cluster technology and several geographically separated data center locations help further minimize risks.