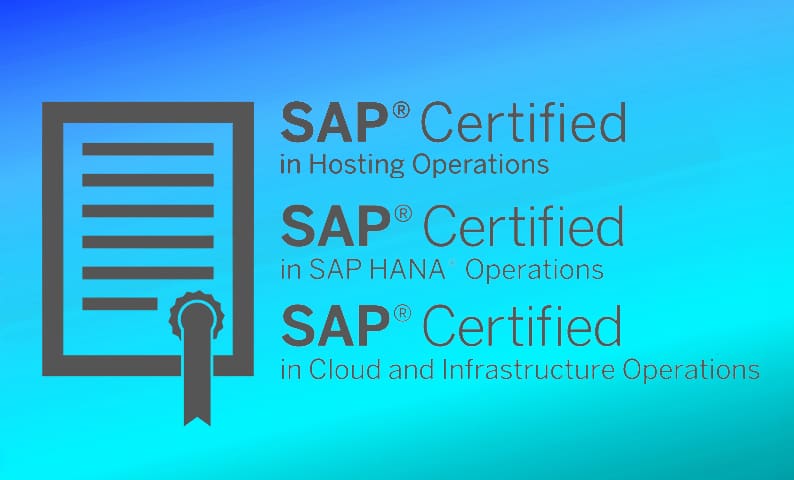 Zertifizierung für SAP Hosting, SAP HANA Operations sowie Cloud and Infrastructure Operations
FIS-ASP ist erneut mit Prädikat Advanced als SAP® Certified Provider in den Kategorien «SAP Hosting Services» und «SAP HANA® Operations Services» rezertifiziert.
Zusätzlich wurde die Zertifizierung «SAP® Certified Provider of Cloud and Infrastructure Operations» erreicht.
Das «Cloud and Infrastructure Operations» Zertifikat attestiert ein auf den Kunden zugeschnittenes Infrastruktur- und Cloud-Services-Portfolio. Cloud-Service-Angebote von FIS-ASP umfassen On-Demand-Infrastruktur und On-Demand-Services für SAP-Produkte. Als SAP Hosting-Partner betreibt und wartet FIS-ASP SAP-Anwendungen und bietet umfassende Hosting-Pakete an, die auf das SAP-Produktportfolio und die Kundenanforderungen zugeschnitten sind. FIS-ASP stellt als SAP HANA® Operations-Partner Lösungen bereit, die auf der SAP-HANA-Plattform mit hochwertigen Service Level Agreements basieren.
Mit der Zertifizierung bestätigt FIS-ASP erneut die hohen Anforderungen der SAP SE an einen professionellen und SAP konformen Betrieb von SAP Lösungen.